Our Top Teas To Have Hot Or Cold
Our Top Teas To Have Hot Or Cold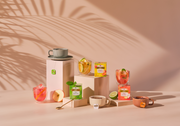 Brush up on our top teas to have simply steaming or over ice for a refreshing twist, plus we've put together a handy go-to guide on how to make iced tea.
No matter the time, season or reason, here at Twinings, we believe you should have your cup of tea your way. But did you know the simple act of changing the temperature of your tea can have a delicious difference in its taste? In fact, we've rallied up our top teas that are beautiful as a hot drink or simply stunning over ice. Read on for our Master Blender's notes on why these teas are delicious hot and cold.


Ginger & Apple
Delicate, spicy and full of life, our Ginger & Apple is an artfully crafted blend of crunchy ripe apple flavours and a warming kick of ginger root.
As a hot drink, this Infusion combines the crispness of the apple flavours while the warming notes from the ginger make this sip perfect morning, noon or night. When hot, the aroma of apples and ginger simply invigorates the senses.
Over ice, this Infusion takes on a deliciously different flavour profile. While you still get the warmth and mild heat from the ginger, the crispy, juicy apple flavours are heightened, and there's a sweet, punchy zinginess to start and a lingering smoothness that's sure to have you reaching for another sip.
Over ice, our Master Blenders recommend garnishing our Ginger & Apple with sliced strawberry and lime. If you want to kick it up a notch, adding rhubarb would simply be a dream!


Pure Peppermint
Aromatic, cooling and with just the right amount of refreshing sweetness, put a pep in your step with this all-round crowd pleaser. This Infusion is tried, tested and loved by all for its never failing ability to refresh and reinspire time and time again.
When brewing up your Pure Peppermint hot, this Infusion is cool, fresh, and boasts a lightly sweet finale. When sipping this steaming, our Pure Peppermint has aromatic menthol notes and a refreshing mouth feel.
If you want to try this over ice, prepare for the flavour to completely change. Chilling our Pure Peppermint brings out the smooth, tingling notes, while the mouthfeel switches to a lingering coolness that's perfect for sunny days.
When garnishing this Infusion over ice, our Master Blenders recommend layering in fresh pineapple, lime slices and cucumber for a delightfully fresh, lightly fruity, real-cool finish.

Mango & Strawberry
Pack those bags. Paradise is calling, and it tastes like this expertly balanced flavour duo of succulent strawberry with the rich aroma of mouth-watering mango. When dreaming up the ultimate ways to have a tea hot or cold, we couldn't go past our tasty tropical hero, Mango & Strawberry.
When enjoyed hot, the delightful balance of fruitiness with the juicy mouthful from the mango flavour gives this Infusion a real tropical feel. Perfect any time of the day, considering this one a little sip of sunshine.
When poured over ice, Mango & Strawberry switches things up. First off, the flavour profile turns sweet, zesty, and a burst of berry notes with an undertone of mango that's reminiscent of tropical punch!
To add to the juiciness, our Master Blenders recommend slicing up strawberry and lime to really dial up those tropical vibes.
Iced tea 101
Want to know how to make iced tea? Here's a quick how-to on giving your tea and infusions a tasty, icy twist.
You'll need:
- Your tea of choice. Our Infusions are delicious over ice! 
- Brew your tea in a double-walled glass or mug
- Ice at the ready
- Fresh fruits or herbs if you want to garnish your tea

Method:
- Boil your kettle and select your tea.
- Add your tea to your glass or mug and fill with boiling water just past the tea bag.
- Brew for five minutes minimum or up to 15 minutes.
- Remove teabag, add ice cubes and garnish.
- Top up with cold or room temperature water if necessary.