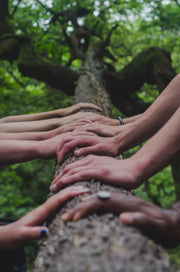 We're conserving our planet by keeping the environment front of mind in everything we do.
We constantly challenge our thinking to improve our operations and reduce our footprint. starting by becoming carbon neutral in our operations and supply chain, and optimising our packaging, we will enable more people to access sustainable drinks.
Reducing our carbon footprint and becoming carbon neutral
We will make all our tea and herbal infusions carbon neutral by 2030.
To combat the potentially devastating impacts of climate change on communities in our supply chain, we're on a journey to make all our tea and herbal infusions carbon neutral.
Going carbon neutral means we'll never put more carbon into the atmosphere than we take out.
To achieve this, we'll determine how much carbon we're responsible for in our supply chain and operations. We'll then use a combination of reducing our energy and transport, opting for renewable energy options, and using less carbon intensive farming practices to get there.
Transitioning to more sustainable packaging solutions
Climate change
By 2025, we will ensure that, in all our markets, our consumer packaging is reusable or recyclable and our tea bags are compostable.
Where possible across our product range, we will also increase the recycled content of our packaging, find alternatives to single-use plastic packaging, and work to reduce the packaging we use.