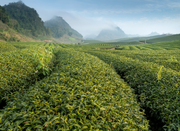 About Us
With a history dating back to 1706, quality tea has always been at the heart of what we do. From classics like Earl Grey and English Breakfast to the latest herbal and fruit infusions, we know the details that matter most
Frequently asked questions
By putting care into the making of all our drinks, we put wellbeing at the heart of every cup of Twinings.
We believe our products can be a source for positive change around the world – from the communities where we source our ingredients, to the homes where our drinks are enjoyed. We are working to improve the wellbeing and livelihoods of our farmers and sourcing communities, while protecting the planet we rely on, by sourcing quality ingredients to the highest ethical and sustainable standards, improving our environmental impact.
There are two initiatives that we are working through to improve the wellbeing of people and our planet through the making of our drinks:
Sourced with care: Our responsible sourcing program, which aims to improve the lives of the communities from which we source. We do this through improving access to water and sanitation, empowering women, and enhancing incomes and resilience through income diversification and sustainable farming practices.
Working with care: We are helping to conserve our planet by keeping the environment front of mind in everything we do. We constantly challenge our thinking to improve our operations and reduce our footprint. Starting by becoming carbon neutral in our operations and supply chain, and optimising our packaging, we will enable more people to access sustainably produced drinks.
We are reducing our global operational and supply chain carbon footprint as much as we can – through renewable energy and improving energy efficiency. Further, we'll balance unavoidable carbon emissions with initiatives in our supply chain that also absorb carbon and benefit tea communities.
We are developing an action plan that enables us to become carbon neutral across our value chain, from our tea bushes and peppermint fields to the supermarket shelves in all the countries Twinings is present. The means currently measuring our impact at every step, to take action, and understand where the biggest opportunities lie to offset further.
We are partnering with ClimateCare on projects that absorb carbon in tea communities, while also making a sustainable difference to their lives – an example being projects in Kenya that enable clean cookstove and water filtration.
Over the past two years we have undertaken a lot of work to address our use of plastics and are taking the next steps towards a more sustainable future.
We are actively working on our use of plastics in two key areas:- To ensure our tea bags are made from plant-based and biodegradable materials- Changing the individual sachets in which we pack some of our speciality teas into fully recyclable material
Visit our FAQ page for more