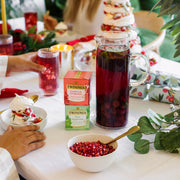 Dash the halls and tea tables with our holiday-inspired ice tea! Introducing our Merry Holiday Mocktail, a nostalgic concoction of tingly mint and rich red fruits for a feel-good drop that everyone can enjoy. With a berry-tingly taste that's reminiscent of candy canes, throw it over ice and add garnish for a serious sippable centrepiece this giving season.
Here's the how-to:
Grab a small heat-proof jug (measuring jugs work a treat!) and boil the kettle.

Add 3 Twinings Pure Peppermint and 3 Cranberry & Pomegranate into the jug and brew for 5 minutes or until cool.

While tea is brewing, grab a serving jug and add in layers of ice, fresh sprigs of peppermint and cranberries.

Pour tea over ice and garnish and serve.