Nutritional Cinnamon & Spice Muffins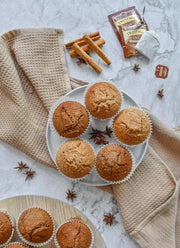 These Nutritional Cinnamon & Spiced Muffins feature our signature Chai Vanilla blend, and make for a perfect mid-morning moment of comfort.
Recipe via @nutritionn.editionn. Follow here instagram.com/nutritionn.editionn
INGREDIENTS:⁠

1.5 cups wholemeal flour⁠
1 cup almond meal⁠
1 tsp cinnamon⁠
1 tsp mixed spice⁠
2 tsp baking powder⁠
6 bags of Twinings Chai Vanilla blend ⁠
2 eggs⁠
2 cups almond milk⁠
1 tsp vanilla extract⁠
1/4 cup melted butter⁠
1/2 cup raw sugar⁠
Optional: Cinnamon sugar for on top⁠
⁠
Steps
⁠
1. Add milk to a saucepan with tea bags and place on low heat, allowing to gently simmer for ~15 minutes so the Chai Vanilla blend can infuse. Set aside and allow to cool.⁠
2. In a bowl whisk together eggs, vanilla extract, melted butter and sugar.⁠
3. When infused milk has cooled, then measure out 1 and 1/4 cup and add it to the bowl with other ingredients and whisk to combine.⁠
(there should nearly exactly be 1.25 cups. If it falls short, make up extra with additional almond milk)⁠
4. Fold in flour, almond meal, spices and baking powder, mix to combine.⁠
5. Distribute batter across muffin tin with 9 large holes and bake in preheated oven at 160C for 25-30 minutes until a toothpick comes out clean⁠
6. Allow to cool slightly before serving