What are the Different Types of Tea?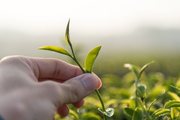 Tea. Teh. Tsaa.
However you say it, however you brew it, and wherever you sip it, tea is the beverage that brings us all together. Our tea library is brimming with variety, with options for any season, any reason, from morning to night and every hour in-between.

Let's chat first about what tea means to us

Here at Twinings, it's no secret that we're obsessed with tea. In our world, tea is a superhero beverage; it connects us with nature, it connects us to different cultures, and it connects us to each other. We believe that tea is a personal and emotional experience, and when you really think about it, it makes sense. It keeps you company at your desk, travels with you in the cup holder of your car, and warms your hands as you're catching up with a loved one. You could say it's an unsung hero.
The beauty of black tea

When most people think of tea, their mind probably goes first to black tea, so this is where we start. Black tea is traditionally thought of as an accompaniment to breakfast (hence our legendary English Breakfast, first designed to complement a hearty English breakfast). But did you know that black tea is brimming with health benefits? Celebrated for thousands of years for its powerful properties, black tea — and tea in general — hydrates, refreshes, gives you an "oomph," and contains natural goodness like minerals, vitamins, antioxidants, amino acids and polyphenols… the list goes on.
If you're looking for a quick intro to our black tea, we have our straight-up black tea blends like English Breakfast and Irish Breakfast, with each blend designed for a different experience (and even time of day). Then, we have our flavoured black teas, like Earl Grey and Chai, that are blended with oils and herbs to invigorate, inspire and yield a unique experience after each and every sip.
The goodness of green tea

Next up in our treasure chest, we're going green. So, firstly, how do we distinguish green tea from black tea? The clue is in the name: green tea is essentially black tea that hasn't been oxidised. There are two key methods for blending green tea — steaming and dry pan-frying. Yes, it really is that intricate. Generally speaking, steamed green tea yields a herbaceous, vegetal taste profile and pan-fried green tea yields a smoky, punchier profile.
(Good to know: to tell the difference, steamed green tea is lighter and luminous, while pan-fried green tea is darker and deeper.)
If green tea seems like your go-to, we recommend starting with our Pure Green, a delicious all-round crowd-pleaser. If you want a botanical twist, why not give Green Tea & Jasmine a go? Its fragrant and delicate perfume makes for a refreshing afternoon pick-me-up. Want more? Check out all the top benefits of green tea here.
Honouring our herbal and fruit teas

Ah, herbs. When we think about shining the spotlight on what nature has to offer, we really do think of the natural goodness that comes from the ground up. Here at Twinings, we have two main categories that honour our love for herbs and fruits. First is our herbal infusions, which combine the flavour and aroma of fresh fruits and powerful plants for an infusion like no other. Second is our Live Well range, which has purposeful herbs blended with efficacious benefits like vitamins and probiotics (to name a few) to support your daily wellbeing with every sip.
Our ethos around herbal tea is simple: we believe that they do good, taste good, and you deserve this goodness daily. So, whether it's an Orange & Cinnamon or Focus, there's something for you.


What's next?

We hope this tour through the rainbow has given you a new appreciation for this powerhouse plant. From black to green to herbal and everything in-between, we have many varied-hued brews waiting for you to explore. Don't know where to start? Why not let your senses guide you
We hope this tour through the rainbow has given you a new appreciation for this powerhouse plant. From black to green to herbal and everything in-between  we have many varied-hued brews waiting for you to explore. Don't know where to start? Why not let your senses guide you…